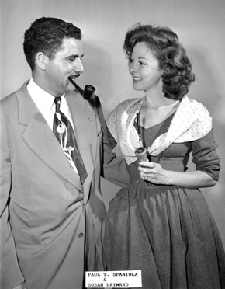 Paul T. Spaniola and Susan Hayward


Club History
The International Association of Pipe Smokers' Clubs, Inc. was founded in October of 1949 and incorporated in the State of New York, City of Schenectady, County of Schenectady, on July 15, 1952.

Mr. Robert Marx, founder of the famous Marxman Pipe, was the first man to put on a Pipe Smoking Contest. He owns the world's most famous pipe, sculpted by Joe Davidson, that is insured for $7,500.

In 1647, the Burghers of New Amsterdam (now New York City) held what has been known as the Smoker's Rebellion. Peter Stuyvesant, the Governor of the settlement, had ordered an edict forbiding pipe smoking by the Dutch Colonists in Public. The burghers were so roused by the edict that a huge party was organized and visited the governor's home. Great clouds of smoke were seen by the citizens of the then small colony. Their point was made and the Governor withdrew his order.

While at the 1952 IAPSC contest in Long Beach, California, Paul Spaniola was paged by a Mrs. Wolfson from Twentieth Century Fox Studios. She first verified with Paul that he was the World Champion Pipe Smoker. Then she wanted to know if he would come over to the studio and teach Susan Hayward how to smoke a pipe for the movie "The President's Lady." Of course he agreed. While at the studio, dozens of publicity photos were taken. (See photo left.) Paul was a bit of a showman himself -- it's a wonder they ever got him out of Hollywood!